Croatian rockers M.O.R.T. serve their punk rock fresh and hard, and delightfully spanking hot!
Three months ago, I remember talking to John about possibilities of coming to UK, and his happy-go-lucky almost nonchalant attitude about it. We had just come out of packed venue where his band M.O.R.T. performed to enthusiastic crowd of revelers. Air was cold, streets were clogged with fresh crunching snow, and confusion settled well on my frozen face. Smiling silhouette replied: let's just do it ! And I duly obliged.
Last week M.O.R.T. made a history. Punk band from Sinj, small Croatian town of 11 000 souls, played a show in London, UK. The following morning they were whisked away to Liverpool's legendary Sound City showcase festival, mingling with 400 other artists. And made it on to the list of Best 20 at the Sound City 2018 !
Photo by getintothis.co.uk
Both shows were an absolute belters. The band's confidence and ease they have performed with was staggering. Music was in perfect harmony with hard hitting tough lyrics painting a colourful kaleidoscope seen thru every day folk eyes.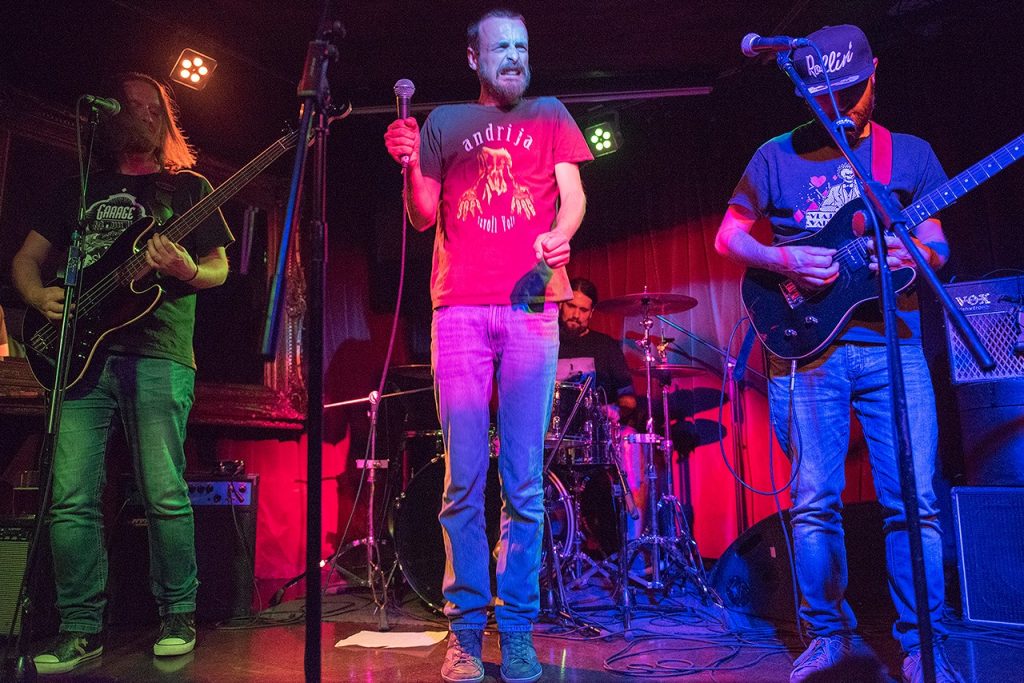 Photo by Rich Ellis
"No-one's there but they don't care; M.O.R.T. come onstage to find On Air deserted, but it matters not a jot. They proceed to channel their inner Black Flag and lay siege to the room. They've played 200 gigs in 4 years and it shows; these scuzzy, tinnitus-inducing punks are drum-tight" Matthew Eland
Not even a technical challenges could have prevented our hero's from getting on that stage in Hoxton Square in London, and totally blow it away. "Nicotine crisis" led the way, slowly easing us into weird and wonderful world of M.O.R.T. "Good song about good stuff"and "I don't believe in you" followed the trend. Coming of age "Nina"and outstanding "Dog" hugged you tightly and your feet just kept moving as if by magic. "Head noise" and "Camp" kept the proceedings dark and serious, tackling issues of life and death, depression and self worth. Phenomenal. Tune after tune immersed us into a giant fire ball, exploding in sheer delight and ecstatic happiness. Frankly I don't remember an artist making a such impact after only a first or second viewing. Jeff Buckley maybe.
Photo by Rich Ellis
"When you turn the light off,
I'm slowly loosing breath
Staying all alone,
I do not think of fear
Defending one another,
with these dreams
Discovering each other,
in exciting new breed"
Head Noise – M.O.R.T.
Photo by Rich Ellis
M.O.R.T. is engaging, powerful, energetic blues post punk band that has not been seen since Henry Rollins left The Black Flag. They are happy-go-lucky bunch spreading their good vibrations in a such open, friendly manner that you just won't be able to resist them. Spreading their sermon and depicting good and bad alike. A band that for the very first time flew to one of their gigs. And conquered. They own that stage in Hoxton in a same way they did at Liverpool's On Air. A band that is here to stay