It was well after midnight as exhilarating faces of the lucky few were swapping stories back and forth after a memorable night in north London. Jack Daniels was cooling throbbing radiant veins, therapeutic move after the earlier attack of slivovitza, a fire-water no Balkan get-together can do without. And in the context of DUBIOZA KOLEKTIV, fire water is a mother's milk that just goes hand in hand.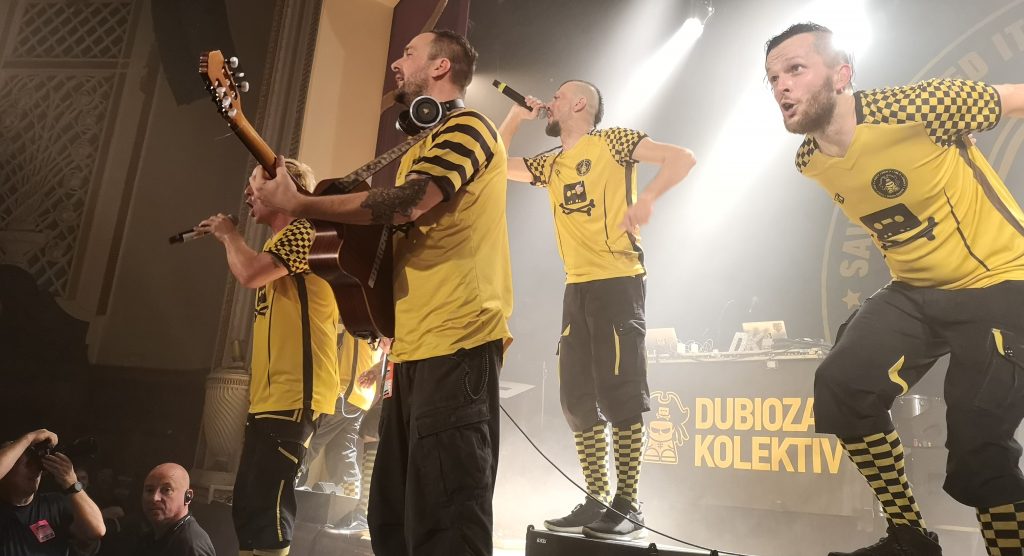 Bosnian phenomenon came, shook our cage and conquered. Self styled politically incorrect Balkan ska-punk-reggae extravaganza show at Islington Assembly Hall last night was one of the most powerful shows of dominance and maturity in show business. From the beginning to the end, the band held the crowd in the palm of their hands. Jubilant fans were more then happy to surrender and let themselves loose in the band's rich back catalogue. A sea of ecstatic hopping crowd could have been easily misunderstood for a weird religious sect somewhere in the deep south of US. Only this is how DUBIOZA does the business: keeping everyone dancing and happy and singing, so much so that World Health Organization should seriously consider patenting this miracle cure, dispatching the "happy pill" into faraway countries struggling with obesity, depression and everything else associated with youth. Theresa May, Sadiq Khan pay attention.
So how fitting that on the same day people's votes are changing the outlook of mid-term elections in the US , over here in the good old Blighty we'r paying respect to band going places. DUBIOZA have been around since 2003 but they have never been afraid to speak their mind, frequently questioning social taboos, political injustice and workers rights. Last 2 years since playing their first show in the UK, the band has grown in stature, confidently showcasing DUBIOZA life mantra: live and let live.
If you have not seen them live yet, you still have a chance to catch them on remaining dates in the UK, before they move to Ireland. Or India. Or Australia. Or before they headline one of the big UK or European festivals, because it most certainly is on the cards.
Go get your "happy pill" while it is radiating all it's charm and energy. And while you're at it, wash it down with some slivovitza. It goes hand in hand. Scouts honest.
http://dubioza.org/